NATUROPATHY
QUALIFIED NATUROPATHY IN MELBOURNE
If you are looking for a naturopath in Melbourne, look no further: Linda Cotone is a qualified Naturopath located in Thornbury at the heart of the northern suburbs.
After completing a Bachelor of Applied Sciences in Medical Laboratory Science in 1995, Linda worked for ten years as a Medical Laboratory Scientist at various hospitals in Melbourne and the U.K.
A practicing naturopath since 2001, Linda brings almost 20 years of passion and expertise to consultations, enabling her to really delve into the underlying causes of individual health complaints.
Fully qualified, Linda holds an Advanced Diploma of Health Science (Naturopathy) and a Diploma of Health Science (Remedial Massage), along with a Diploma in Herbal Medicine, a Practitioner Diploma in Nutrition and ANTA accreditation.
As a qualified Health Science's Practitioner, Linda also specialises in health screening and utilises comprehensive tools to help develop a dietary and lifestyle plan to improve your overall health. You will feel the difference.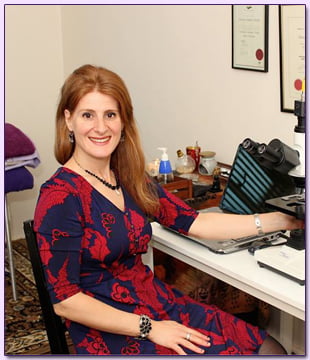 What Linda Also Specialises In
Women's health (PCOS, PMS, menopause, period pain, endometriosis, etc.)
Natural fertility planning and pregnancy care
Weight loss (Ultra Lite, Shake It and other programs)
Digestive disturbances and detox programs
Insomnia and fatigue
Depression
Anxiety and stress related disorders
Metabolic syndrome/diabetes
Skin issues
Immune system problems
Thyroid issues
Asthma and allergies
Migraines
Pain management
LEADING YOU TO HEALTH
Linda is dedicated to helping people achieve their health goals and assisting in the restoration of balance in their lives. She is committed to providing a quality service and helping you to be and feel your best.
Linda only uses the highest-quality supplements and will design a custom program that is catered to you individually. This program may help to eliminate issues that have been bothering you for years or simply help you to maintain a sense of good health and vitality, depending on your health and lifestyle goals. As time is of the essence to all of us, Linda designs treatment plans that are easy to apply to your daily routine, ensuring you get only the best results.
Located in Thornbury and servicing Northcote, Preston, and the surrounding northern suburbs, Melbourne Naturopathy offers health rebates for extras private health insurance. Medibank Private Members Choice Naturopath and Remedial Massage Therapist, special rates, and higher rebates for Medibank members apply.